AQUAAUTOMAT
"FINE CURVES"
4-IN-1 REVERSE OSMOSIS WATER PURIFIER
Aquaautomat™ is the first of its kind installation free counter top water purifier that is armed with ZEROcube Technology - that is ZERO Water Waste, ZERO Installation and ZERO Contamination. It can dispense water at Four different temperatures (Room Temperature, 65, 85 and 100 °C). It can not only create bottled quality mineral water at your home, office, schools and doctors clinics but can also provide you a filtered warm or boiling water for tea or coffee.
WE ARE PROUD OF OUR DESSIGN AND BET YOU WILL BE TOO!
Each and every inch of Aquaautomat is designed with full precision. Each edges are finely curved leaving compromises behind. For such a profound design there couldn't be a name better then "FINE CURVES". While designing Aquaautomat™ we took special care of your needs and requirements and packed a lot of innovative and patented technologies. in this elegant compact design because your health and comfort is important to us.
COMPACT AND PORTABLE
Due to its compact size and installation free technology it can be carried away with you where ever you go. Installation of this machine doesn't need any plumbing and its operation is as easy as child's game.
MOBILE INTELIGENT
Aquaautomat is not just any regular purifier. It's a purifier with built in 21st century
technologies. It can communicate via your mobile device from a remote distance via wifi.
more+
SUPERIOR DESIGN
Preciously crafted Elegant and Smart desing to give style to your hause, office,
doctor's clinic or where ever you can think of.
more+
PURE AND HEALTHY WATER
With it's 4 stage water purification System Aquaautomat removes not only chlorine
and heavy metals but can remove all disease causing viruses, bacterias & cysts from the water to assure safest & healthiest water.
more+
Energy efficient indicators
Feather Touch push button
dispensing, with electronic
rotating temperature controller
Glossy Polycarbonate elegant body
Inbuilt foodgrade pureified water
Storage tank
Stylish transparent 5 Liters feed tank
Easy to Remove Magnetic drip tray

Bye Bye WATER WASTAGE
No more water wastage in the process of purification. Aquaautomat's innovative
design collects the rejected water back in the feed tank that can be used for watering the plants or mopping purposes.
more+

Bye Bye WATER BORN DISEASES
4 stage reverse osmosis purification technology of Aquaautomat not only removes
chlorine and heavy metals but can remove all disease causing viruses, bacterias & cysts from the water to assure safest & healthiest water.
more+
Bye Bye BOTTLED WATER
No more expenses for purchasing water bottles because with Aquaautomat you can get
the same quality of water at home. And further more you will be helping environment because every year more then billions of water bottles goes in landfills or poluting our waterways. And lot more are recycled adding up in the environmental polution.
more+

Bye Bye PITCHER FILTERS
PITCHER FILTERS are filters not Purifiers. They just removes simple chemicals like
chlorine, but may leave behind toxic chemicals and bacterias. But Aquaautomat is a Purifier that not only remove chlorine but will also eliminate new age contaminants like lead, pesticides, heavy metals together with all known disease-causing bacteria, viruses, and cysts present in your water. Thus, giving your family the purest, safest and healthiest water to drink
more+

Bye Bye KETTLE
Using Aquaautomat eliminates the need for additional water Kettles. The inbuilt
heating system of Aquaautomat not only provides boiling water but water at 4 different temperatures ranging from room temperature till 100°C . Thereby eliminating the need of kettle for seperatly warming the water.
more+

Bye Bye REGULAR PURIFIERS
Regular or Undersink Reverse osmosis water purifiers needs to be connected to the
main water lines which requires a complicated installation and maintenance work to be performed by Plumber. But Aquaautomat's installation free plug and play design together with one click filter change technology eliminates the need of Plumber for installation or regular maintenance.
more+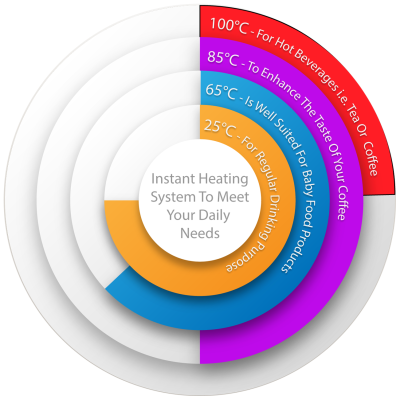 INBUILT INSTANT HEATING
Aquaautomat is armed with inbuilt instant heating system to provide the water at four different Temperatures to meet your day to day requirements.
21st CENTURY TECHNOLOGY!!
Aquaautomat has been designed taking complete care of the requirement of 21st century modern lifestyle. It is integrated with a Wifi Technology to give you complete control of your system via your mobile device from a remote distance. You can not only control Aquaautomat via your smartphone but can also keep a track of the Input/Output water quality, time to change your filters, and can even control the temperature of the dispensing water. We have taken full care to make sure that you are not left behind with today's technology in your chase of purified water and enjoy a healthy and hitech lifestyle.