German startup Aquaautomat is going to launch futuristic water purifier Fine Curves which is the first ever installation-free Reverse Osmosis purifier with integrated instant water heater and assures purest of water Read More.
Munich, Germany – 18th April 2016: Rising German startup Aquaautomat has announced to soon launch its futuristic water purifier Fine Curves which marks the first ever installation-free Reverse Osmosis purifier in the world. The purifier wholesale jerseys promises purest of water at fingertips.
The advanced purifier speaks of a never-seen-before 4-in-1 solution with its installation & maintenance free design, edgy zero water wastage technology, mobile connectivity & water facility at 4 different temperatures.
"We are glad to announce that we have just come up with our revolutionary water purifier
Aquaautomat – Fine Curves atorvastatin 80 mg. While the regular purifier's show a 1:3 ratio for clean to wasted water, our futuristic purifier is armed by zero water wastage backup. With us, you can be guaranteed of the purest water", stated a chief spokesperson from the company.
"We want to assure healthy water easily for all households at affordable rates."
Aquaautomat is an endeavor by dental surgeon & lecturer & quality management & consultant expert engineer. The concept of Aquaautomat came up last year while the founders were in quest of a good Reverse Osmosis water purifier. The existent choices were either too costly or too complex to install. Moreover, they wanted something that can offer them warm winter in colder months so that Shaken they can avoid unwanted lapse of time wasted in heating filtered water.
"We grabbed the opportunity to come up with a revolutionary fusion of installation-free water purifier system with in-built water heating facility – that was missing in the market", noted one of the founder members while speaking about the idea wholesale NBA jerseys behind their company.
The energy-efficient water purifier can dispense water in room temperature, 25°C as well as 65°C, 85°C & 100°C. Speaking further, the startup founder stressed on the compact design of Fine Curves that assures easy portability anywhere. The machine does not require plumber assistance for installation and speaks of an easy operation.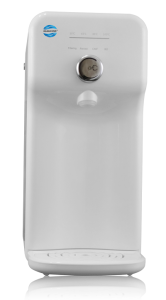 "We have come up with patented filter change technology, superior design, easy control -and our innovative purifier guarantees pure & healthy water with 4 stage reverse osmosis technology. The regular purifiers waste as much as 3l of rejected water per 1l pure water but our advanced purifier will collect rejected water in feedback so that you can utilize it for watering plants", explained the founder.
Unlike regular water purifiers in the market, Fine Curves not just removes chlorine from water but also eliminate the new-age contaminants such as pesticides, lead, heavy metals as well as other chemicals & inorganic impurities.
"It can also remove disease causing virus, bacteria & cyst from the water to assure safest & healthiest water. We are actually the brand y that you can leaking count on."
"For our Brand marketing. We will be utilizing all the possible ways to be audible to our customers. As a first step we are planning to bring our Product on crowd- funding Cleveland Browns jerseys platform – Kickstarter, at promotional price. This will not only give us the chance to directly interact with our potential customers and understand their needs. But our backers will be profiting to have the wholesale jerseys product at the best possible price. We are sure that they will like it so much that they wont hesitate to recommend us Büyüyerek further. We are trying to build our worldwide distributors network to realize our d?m vision of bringing Aquaautomat to each and every household at cost effective price." explained the founder.